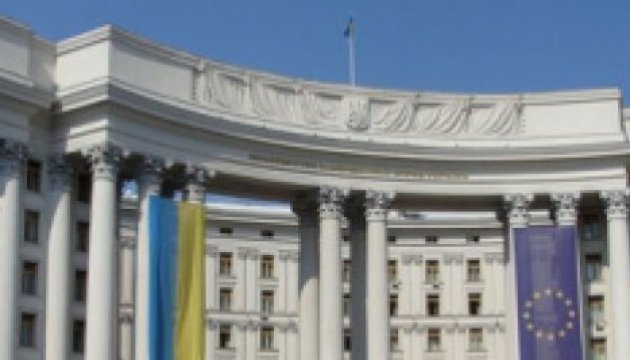 Kyiv demands Moscow stop intimidating OSCE observers
The Ukrainian Foreign Ministry condemns systemic restrictions and provocations by Russia and its militants against the observers of the OSCE Special Monitoring Mission to Ukraine.
The ministry said this in a comment on a thematic report by the OSCE SMM entitled "Restrictions of SMM's freedom of movement and other impediments to fulfillment of its mandate."
"Their purpose is obvious - concealing the Kremlin's responsibility for fueling the conflict and blocking the implementation of the Minsk agreements," reads the comment.
The ministry said that according to the SMM's report for January-June 2017, which was published on September 6, Republic of Crimea, the overwhelming majority of gross violations of the freedom of movement of observers had been recorded on the territory of certain districts in Donetsk and Luhansk regions not controlled by the Ukrainian government.
"Of particular concern are the reports of the hostile attitude of pro-Russian militants to SMM observers, which were sometimes accompanied by violence," the ministry said.
It stated that systemic restrictions on movement by Russian hybrid forces were used during attempts by the SMM to enter uncontrolled areas of the Ukrainian-Russian border.
According to the ministry, such actions by Russia are a gross violation of Article 4 of the Minsk protocol on ensuring constant monitoring of the Ukrainian-Russian state border and verification by the OSCE and are aimed at the uninterrupted supply of Russian weapons, ammunition and mercenaries to Ukrainian territory.
"We once again demand that the Russian Federation stop intimidating SMM observers, abandon the practice of 'closed zones' for monitoring by the OSCE and ensure safe and unhindered access by the OSCE SMM to the entire occupied territory [in Donbas], including to Ukraine's temporarily uncontrolled section of the Ukrainian-Russian border," the ministry said.
op