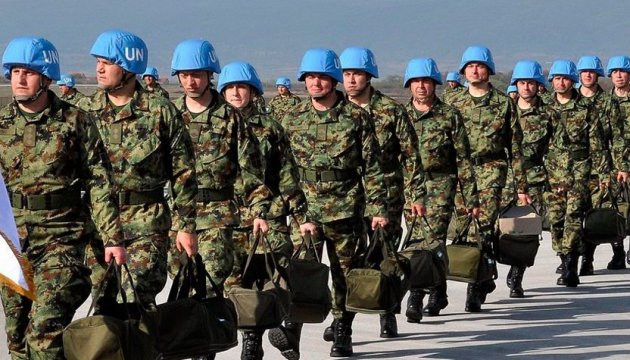 Russia submits to UN draft resolution on peacekeepers in Donbas
Russia has submitted to UN Security Council President Tekeda Alemu and UN Secretary General Antonio Guterres a draft resolution on the deployment of peacekeepers along the engagement line in the Donbas, Russia's UN envoy Vasily Nebenzya has said.
"Today we went a respective draft resolution to the UN Security Council President and the UN Secretary General. We hope that it will be circulated among the council's members soon," TASS quoted the diplomat as saying on Tuesday.
According to him, in the near future the text will be examined by experts from the member countries of the Security Council, and the main stage of negotiations will begin next week after the permanent representatives return from Ethiopia.
As reported, the Ukrainian Foreign Ministry said in a comment after reports in the media about the latest statements by the Russian leadership regarding the possibility of deploying UN peacekeepers in the Donbas that Ukraine is ready to consider the issue of the deployment of a UN-led peacekeeping operation on its territory in line with an official address made by Ukrainian President Petro Poroshenko to the UN Secretary General and the UN Security Council head in March 2015.
On September 5, Russian President Vladimir Putin approved the idea of sending UN peacekeepers to the Donbas to protect the OSCE mission, but said that these forces should stay only on the contact line and that this should be coordinated with "LPR" and "DPR" leaders.
Earlier, on August 22, Poroshenko said that Ukraine would initiate the introduction of UN peacekeepers to the uncontrolled territories of the Donbas at the autumn session of the UN General Assembly.
op