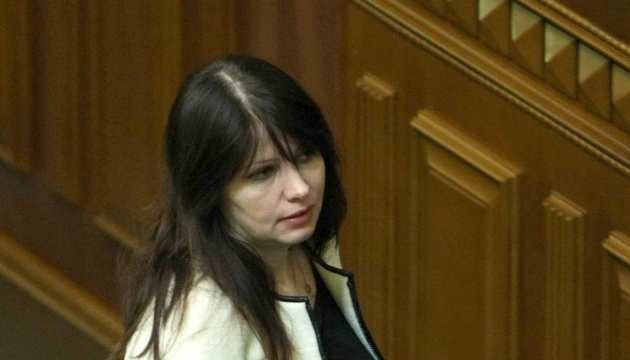 Putin's statement on peacekeepers a sign of his intention to freeze conflict - MP
The format of a peacekeeping mission in the Donbas cannot be the subject of talks with the puppet leadership of the so-called "LPR"/"DPR," the head of the Ukrainian delegation to the NATO Parliamentary Assembly, MP Iryna Friz, has reported on her Facebook page.
"Putin's statement demonstrates to the international community who is delaying the process of peace settlement in the Donbas and violating the Minsk accords. The introduction or format of a peacekeeping mission cannot be the subject of negotiations with the puppet leadership of the LPR/DPR. Such legalization will not take place," she said.
According to Friz, Russian President Vladimir Putin's position on the peculiarities of the presence and tasks of a possible international peacekeeping mission in the Donbas means manipulating the content of the Ukrainian proposal and the reluctance of the Russian side to comply with the Minsk accords.
"The desire of the Russian Federation to confine itself to the deployment of the mission only on the contact line is a sign of its intention to freeze the conflict, retain full control of the occupied territories by the self-proclaimed puppet leadership. The Kremlin is trying to substitute the provisions of the Minsk agreements, in particular, the first paragraphs: a ceasefire and the release of hostages," Friz said.
She noted that the peacekeeping mission should be considered only throughout the whole territory occupied by Russia, including the contact line and a special section of the border with Russia.
On Tuesday, September 5, Putin approved the idea of introducing UN peacekeepers to the Donbas to protect the OSCE mission, but said that these forces should stay only on the contact line and that this should be coordinated with "LPR" and "DPR."
Earlier, on August 22, Ukrainian President Petro Poroshenko said that Ukraine would initiate the introduction of UN peacekeepers to the uncontrolled territories of the Donbas at the autumn session of the UN General Assembly.
op