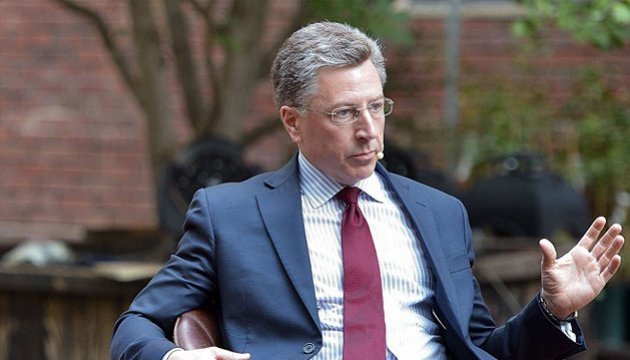 U.S. not to reach agreement with Russia behind backs of Europe and Ukraine - Volker
The United States will not reach any agreement with Russia behind the backs of Europe and Ukraine, U.S. Special Representative for Ukraine Kurt Volker has said.
"That's absolutely not going to happen. There is no such thing and there will not be any kind of separate deal over the heads of the Ukrainians or behind the backs of the Europeans," Volker said in an interview with German broadcaster Deutsche Welle.
The diplomat said that he was in close contact with his German and French colleagues and recalled that the United States fully supports the Normandy process. However, Washington does not intend to become a part of it or to try to go over the top of it, he added.
Volker noted that none of the provisions of the Minsk agreements had been fulfilled. "The Minsk agreement is not working today in the sense that it hasn't produced the peace and the restoration of Ukraine's territory, which is the goal. At the same time it plays a very important role in that it is a vehicle by which Russia, as recently as just a few weeks ago, reaffirmed its support for Ukraine's territorial integrity and it is also the basis on which sanctions are kept in place. So until Russia implements the Minsk agreements forward - sanctions remain," he said.
Volker did not agree with the assessment of Russian presidential aide Vladislav Surkov on how their meeting was held on August 21. Volker believes that the negotiations were "frank and direct," constructive, but there are some disagreements. However, Russia and the United States agreed that the status quo is not good for anybody, and it is necessary to change this provision as soon as possible, he said.
He said he was not surprised that Moscow was raising concerns about possible deliveries of U.S. weapons to Ukraine. "They had an opportunity to move into Ukraine and take territory and annex Crimea without really much opposition. So obviously they're going to raise concerns about Ukraine being better able to defend itself… Russia was hoping that it would be able to keep Ukraine in its orbit as part of the Russian sphere of influence, the greater Russian identity," Volker said.
In his opinion, the only area where Russian-speaking people are suffering is in the area controlled by Russian forces.
op