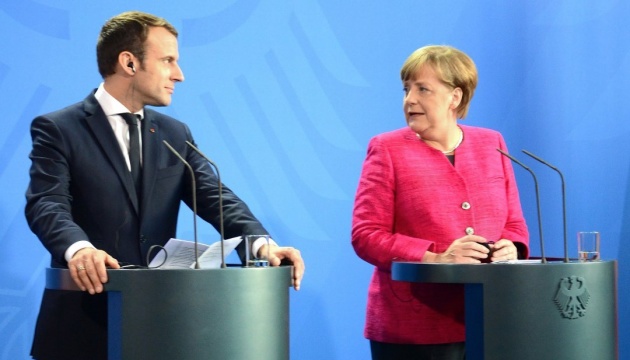 Merkel, Macron call on Ukraine, Russia to support ceasefire
German Chancellor Angela Merkel and French President Emmanuel Macron have stated that despite the agreement reached in the Normandy format, the situation in the Donbas has not significantly improved.
The two leaders said this in a joint statement published on the website of the head of the German government.
"We urge President [Vladimir] Putin and President [Petro] Poroshenko to fully respect their commitments, to support the ceasefire in a public and clear manner, and to ensure that appropriate instructions have been sent to the military and local forces," reads the statement.
Merkel and Macron noted that despite the joint support of the heads of state and governments of the Norman Four countries, a new truce announced by the Trilateral Contact Group was still violated by the parties, including with the use of heavy weapons.
"The OSCE observer mission continues to report threats to its staff and restrictions on their freedom of movement, particularly in the areas not controlled by the Ukrainian government," reads the statement.
The two leaders encouraged greater cooperation with the Joint Control and Coordination Center on the ongoing fights and called on all parties to provide OSCE observers with safe and unimpeded access to areas within the battle zones.
Germany and France will closely monitor the situation in the coming days, according to the statement.
op