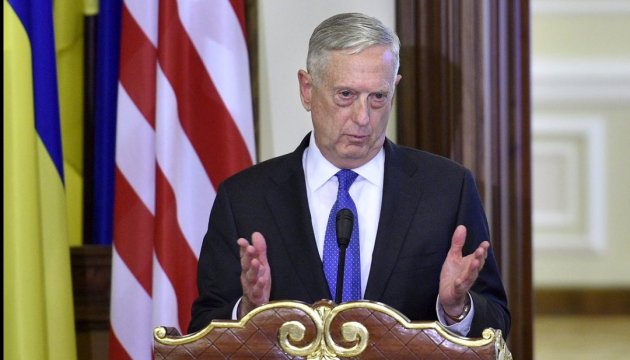 Mattis says U.S. allies will continue to press Russia
The United States will continue to support Ukraine and insist on restoring its territorial integrity, U.S. Secretary of Defense James Mattis has said.
He stated this after a meeting with Ukrainian President Petro Poroshenko in Kyiv on Thursday, an Ukrinform correspondent reports.
Mattis said that the United States undertakes to assist Ukrainians in their efforts to protect their country.
He recalled a statement by U.S. Secretary of State Rex Tillerson that the United States would insist on restoring Ukraine's territorial integrity and guaranteeing the security of all Ukrainian citizens.
He said that the United States had assumed commitments on diplomatic efforts to resolve the conflict.
According to Mattis, U.S. allies will continue to exert pressure on Russia, and such pressure should be imposed so that Moscow complies with the Minsk accords, as well as a number of other international agreements.
op