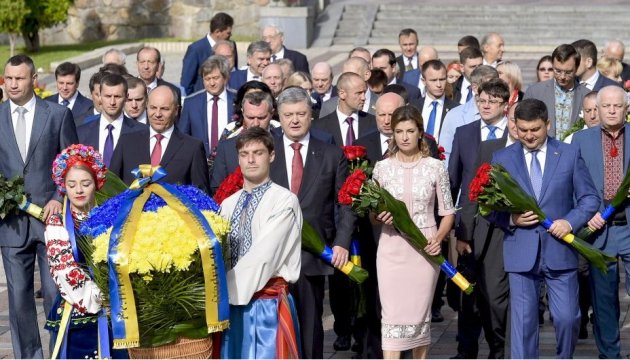 Peaceful settlement in Donbas remains a priority - president
The peaceful political and diplomatic way of settling the situation in Donbas remains a priority for Ukraine, President Petro Poroshenko has said.
He stated this during a military parade on Independence Square in Kyiv on August 24, an Ukrinform correspondent reports.
"We still set as a priority the peaceful diplomatic, political and legal way of returning Donbas and Crimea [to Ukraine]. I am sure of our allies, and extremely symbolic to us is the participation in this parade of the chiefs of defense ministries and servicemen of the armed forces of the United Kingdom, Georgia, Estonia, Canada, Latvia, Lithuania, Moldova, Poland, Romania, and the United States," Poroshenko said.
He noted that the Ukrainian army is now in a better condition than it was before. However, there is a lot of work to be done to bring it closer to NATO standards, he added.
"Ukraine is ready to rebuff an aggressor and his attempt to take the offensive," Poroshenko said.
op