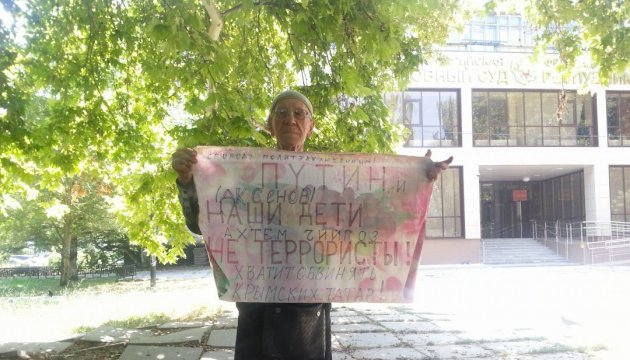 Amnesty International calls on Crimean authorities to immediately release detained elderly activists
The persecution of Crimean Tatars for one-man protests in Simferopol demonstrates the absolute rejection of the dissenting views on the annexed peninsula.
This is said in the statement of the Amnesty International human rights organization.
"De-facto Crimean authorities must immediately release the Crimean Tatar activists who were detained in Simferopol on Monday, stop detaining people for alleged administrative offenses and cease the persecution of those who express dissenting views on the peninsula," the Amnesty International states.
As Denis Krivosheev, Europe and Central Asia Deputy Director at Amnesty International noted, the detention and arrest of Server Karametov alone is "a gross violation of the freedom of speech and assembly."
"However, having detained the activists who supported him, the de-facto authorities of the Crimean peninsula surpassed themselves by demonstrating pathological intolerance to any person who expresses dissenting views. We demand to immediately release all the Crimean Tatar activists who were detained on Monday and stop any persecution of Crimea residents," he added.
As reported, at least four people were detained on Monday, August 14, for holding one-man protests in support of Servet Karametov, who was arrested on August 10 for ten days. All the activists are elderly people.
ol