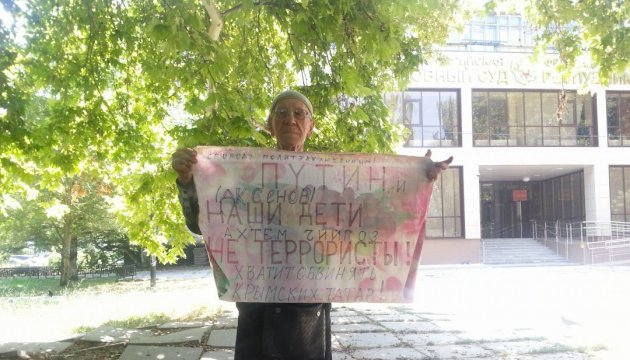 Crimean court refuses to release 76-year-old activist from detention
August 11, the Kremlin-controlled Supreme Court of the occupied Crimea rejected the appeal against administrative arrest of 76-year-old Crimean Tatar activist Server Karametov and left him in custody until August 19.
The day before, Amnesty International called on the Russian authorities to immediately release Karametov, Crimea. Realities portal reports.
August 8, Server Karametov held a one-man protest action near the Supreme Court of Crimea in Simferopol, expressing support for Mejlis deputy chairman Akhtem Chiygoz who now stands trial for participating in the rally in support of Ukraine's territorial integrity on February 26, 2014.
Two administrative protocols were drawn up against Karametov, particularly on violation of procedure for holding one-man protest action and on resistance to police officers.
August 9, the district court in Simferopol sentenced activist Server Karametov to ten days of administrative arrest for "resistance to police officers."
ol