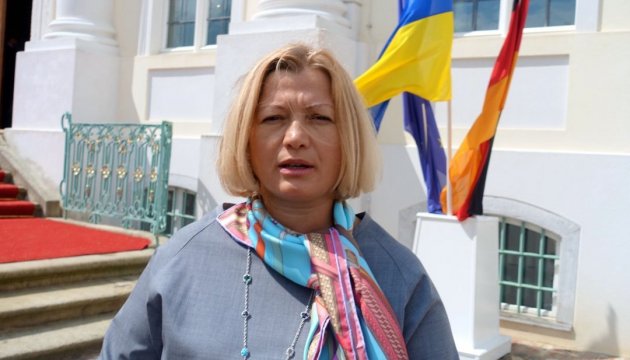 Herashchenko concerned about EU silence on arrests in Crimea
Ukraine will not listen to the advice of foreign high-ranking officials that the status of Crimea should be discussed only after the stabilization of the situation in Donbas, according to a Ukrainian politician.
Iryna Herashchenko, the Verkhovna Rada first deputy head and Ukraine's representative in the humanitarian subgroup of the Trilateral Contact Group, reported this on her Facebook page on Tuesday.
"Some foreign high-ranking officials advise us first to solve the problem of Donbas and then Crimea... We won't listen to this advice. We are walking these paths simultaneously, approaching the liberation of Crimea and Donbas step by step and day by day," she wrote.
Herashchenko added that Ukraine was trying to speed up the settlement of the situation in Donbas and the return of Crimea in a political and diplomatic way, strengthening the Ukrainian army. "Ukrainian citizens live in the occupied Donbas and in the occupied Crimea. Donbas and Crimea are Ukrainian territories," the politician said.
At the same time, she expressed concern that sometimes foreign partners draw attention to Ukraine's commitments, but are forgetting about their own commitments to Ukraine.
"Sometimes our foreign partners would prefer to talk more about Ukraine's homework (fighting corruption, strengthening democratic processes, transparency of the economy, reasonable staffing policy), so as not to talk about their own commitments, such as a guarantee of Ukraine's security and human rights protection on the whole European continent," Herashchenko said.
She is also indignant that European partners often ignore Russian actions in Crimea. "Often, our European partners make loud statements in defense of Ukrainian NGOs (this is their full right, and they support these NGOs), but they are silent about arrests in Crimea and heavy sentences passed by the Russian occupation authorities against Ukrainians or Crimean Tatars," the first vice speaker said.
Herashchenko urged politicians and public activists to always remind Western colleagues and partners "of Russian military aggression and the price that Ukraine and Ukrainians currently pay for peace in the EU."
German Government Coordinator for Intersocietal Cooperation with Russia, Central Asia and the Eastern Partnership Countries Gernot Erler said earlier that the status of Russia-annexed Crimea should be discussed only after the conflict settlement in Donbas.
op