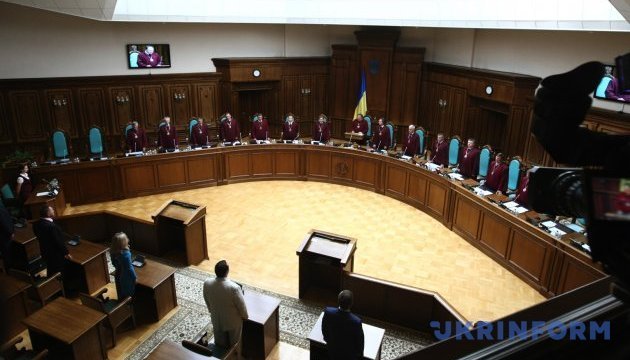 New law on Constitutional Court comes into force today
Today, August 3, the law on the Constitutional Court of Ukraine has come into effect.
The law in aimed at reforming the organizational structure of the court, in particular provides for the activities of the court consisting of the Grand Chamber, two senates and six panels.
According the law, the Grand Chamber is authorized to consider issues of the Constitution's compliance with acts of the Verkhovna Rada, the president, the Cabinet of Ministers, and the Verkhovna Rada of the Autonomous Republic of Crimea. Also, the Grand Chamber officially interprets the Constitution and considers the constitutionality of issues submitted for a referendum.
The Senate consists of nine judges of the Constitutional Court and considers issues of the constitutionality of laws of Ukraine and their separate provisions on complaints.
The panel consists of three judges of the Constitutional Court. Its powers include the opening of constitutional proceedings on submissions, appeals, and complaints.
The Constitutional Court consists of 18 judges. The head of the Constitutional Court is elected from among the judges of the Constitutional Court for only one three-year term through secret ballot by submitting ballots. The head of the court is a candidate supported by the most votes of judges.
Members of the Constitutional Court will be elected by the president, the Verkhovna Rada, and the Congress of Judges.
As Ukrinform earlier reported, the Verkhovna Rada on July 13 approved at second reading and as whole the law on the Constitutional Court. A total of 245 MPs voted in favor of the law.
President of Ukraine Petro Poroshenko signed the document on July 31.
On August 2, the law was published in the official parliamentary newspaper Holos Ukrainy.
iy