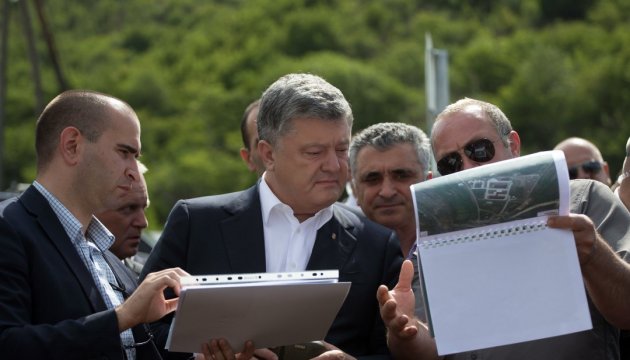 Poroshenko: Russia must remain isolated until Ukraine and Georgia are occupied
Russia must take steps to de-occupy the Ukrainian and Georgian territories.
President of Ukraine Petro Poroshenko said this while staying on the border line with Russian-occupied territory of Georgia's South Ossetia, an Ukrinform correspondent reports.
"The Russian Federation is a common aggressor for Ukraine and Georgia... We have a very similar situation on the occupied territories: disorder, hopelessness, humanitarian catastrophe. What should be done to liberate these territories? We emphasize that we should follow the political and diplomatic path. We need the unity of the entire world, the solidarity with Georgia and Ukraine. I believe that the world is united today. Russia remains isolated. Russia must take steps that will facilitate de-occupation of Ukraine and Georgian territories," Poroshenko said.
The President of Ukraine stressed that he made the current visit to declare Ukraine's clear standing of support for the sovereignty, territorial integrity and independence of Georgia.
ol