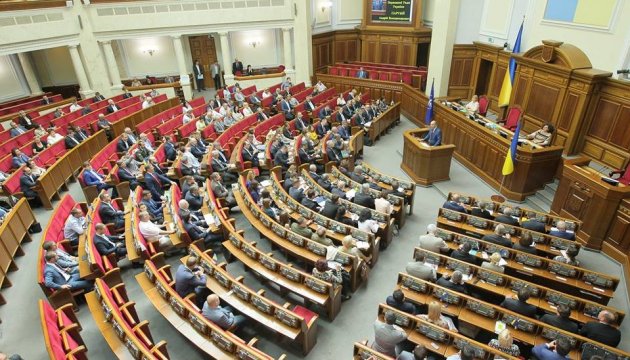 Parliament refuses to cancel law on Constitutional Court
Ukrainian lawmakers have refused to cancel yesterday's adoption of the law on the Constitutional Court of Ukraine, an Ukrinform correspondent reports.
The parliament considered two draft resolutions on the cancellation of such a vote, which were submitted by independent MPs Yuriy Levchenko and Yuriy Derevianko.
In particular, the draft resolution from Levchenko was supported by only 54 deputies, with at least 226 votes required, while the one from Derevianko received only 51 votes.
The Verkhovna Rada chairman now has the right to sign the respective law on the Constitutional Court.
As reported, on July 13, the Verkhovna Rada adopted the law on the Constitutional Court of Ukraine, which reforms the organizational structure of the court, in particular, provides for the activity of the court consisting of the Grand Chamber, two senates and six panels. The head of the Constitutional Court, according to the document, is elected from Constitutional Court judges for only one three-year term through secret ballot by submitting ballots. The head of the court is a candidate that wins the most votes of judges.
At the same time, it is planned to leave unchanged the provisions of the current law that the Constitutional Court includes 18 judges of the Constitutional Court.
The Grand Chamber is empowered to consider compliance with the constitution of the acts of the parliament, the president, the Cabinet of Ministers, and the acts of the Supreme Council of the Autonomous Republic of Crimea. The Chamber also officially interprets the constitution and examines the constitutionality of issues that are put forward for a referendum.
The Senate consists of nine judges of the Constitutional Court and considers the constitutionality of the laws of Ukraine and their separate provisions under complaints.
It is envisaged that the panel is composed of three judges of the Constitutional Court. Its powers include the opening of constitutional proceedings under motions, appeals, and complaints.
In addition, the law introduces amendments to other laws, including the law on the Verkhovna Rada commissioner on human rights. At the same time, by its decision, the parliament changed the procedure for electing an ombudsman. The law says that voting is conducted during parliamentary plenary sessions by secret ballot. A number of deputies slammed this provision for the fact that it might eliminate the guarantees of independence and political bias of the commissioner.
op