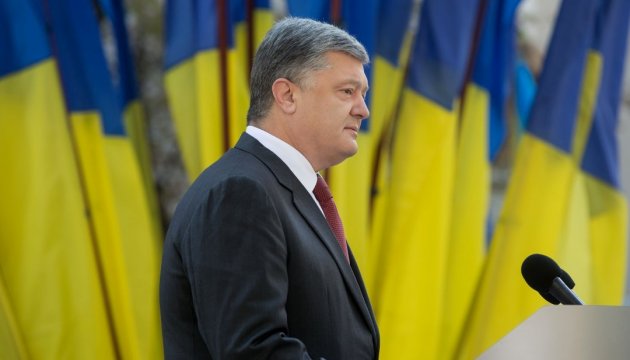 Poroshenko sees 19th Ukraine-EU summit as summit of visa-free regime and association
A plenary meeting of the 19th Ukraine-EU summit has begun at the administration of the Ukrainian president in Kyiv, an Ukrinform correspondent has reported.
"I am sincerely pleased to greet you in Kyiv at the 19th Ukraine-EU summit, which has already gone down in history as a summit of a visa-free regime and association. It is very important when everyone can see the results of our work with his own eyes," President Petro Poroshenko said at the opening ceremony.
The head of state also said that no nation had paid such a high price for rapprochement with the EU. "Ukraine has clearly declared its European aspirations and its European choice. And we will not give it to anyone," Poroshenko added.
As reported, a plenary meeting of the summit will last for one-and-a-half hours. The EU delegation is represented by European Council President Donald Tusk and European Commission President Jean-Claude Juncker. The summit will also be attended by members of the Ukrainian government and the European Commission.
According to the agenda of the meeting, the leaders will discuss the implementation of the Association Agreement between Ukraine and the EU, reforms in Ukraine and strengthening the support of the European Union, the situation in the occupied Donbas and the Crimean peninsula. Summit participants will also agree on key regional and international issues.
After the meeting, Ukrainian President Petro Poroshenko, Tusk and Juncker will meet with journalists.
op