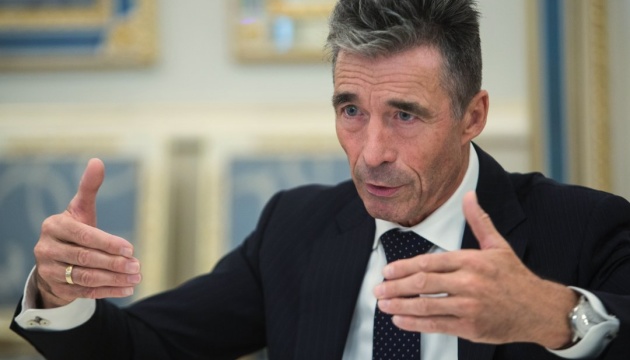 Putin not to comply with Minsk agreements until there is strong international pressure on Russia – Rasmussen
Putin will not comply with the Minsk agreements and will continue to violate the international law until there is a strong international pressure on Russia.
Anders Fogh Rasmussen, the ex-NATO Secretary General, Adviser to the President of Ukraine, said this in exclusive comments to an Ukrinform correspondent in Brussels.
"Russia has had more than enough time to end the fighting in eastern Ukraine. We want to continue the Minsk process, but until we raise the costs to Putin for failing to deliver, I am not convinced he will implement Minsk or respect international law," Rasmussen said.
At the same time, the Danish politician noted that the Minsk process was limited for certain goals.
"We should show that the US and EU response to Russia is commensurate to their action," the presidential adviser said.
Rasmussen expressed concern over the situation in eastern Ukraine, which could lead to a dangerous frozen conflict.
"As things stand, there is no incentive for Putin to fulfill any of his Minsk commitments, and so a dangerous status quo is being allowed to settle in as a result of our inaction. We should show greater strength and resolve to demand Putin to finally come good on his promises to end the fighting in eastern Ukraine," Rasmussen stressed.
He added that "the US Administration should provide lethal defensive weapons to Ukraine to act as a deterrent."
ish