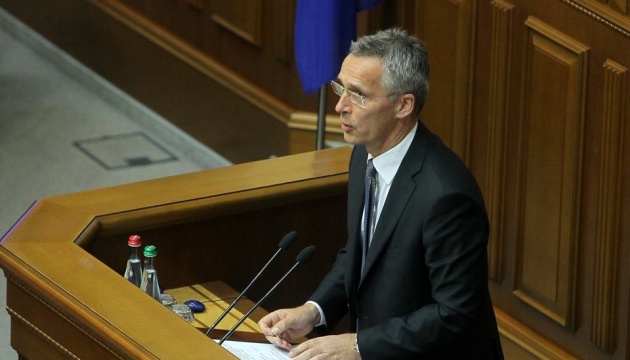 Ukraine needs heroes in government, parliament and business - Stoltenberg
NATO Secretary General Jens Stoltenberg has said that Ukraine needs heroes not just on the field of battle, but also in all spheres of social and political life.
He stated this during his speech before Ukrainian MPs in the session hall of the Verkhovna Rada on Monday, an Ukrinform correspondent reports.
"This is a time for heroes and Ukraine needs them more than ever. Not just on the field of battle but right here in Parliament, in government, in business, in civil society," Stoltenberg said.
He noted that Ukraine had already made "remarkable progress," but there is still a very long way to go and "clear leadership is needed at every level across Ukrainian society."
"But more than anywhere, it must come from the President, from the Prime Minister, and from you, the elected representatives of the people. I commend you all on how far you have come. And I encourage you to continue on that journey to fight against corruption, to strengthen the rule of law and to bring transparency to all parts of public life," Stoltenberg said.
Members of the North Atlantic Council were also present in the session hall.
Earlier, the NATO secretary general, along with a delegation of the alliance, attended a meeting of the Ukraine-NATO Commission, and participated in opening a new office of the NATO Representation to Ukraine.
op