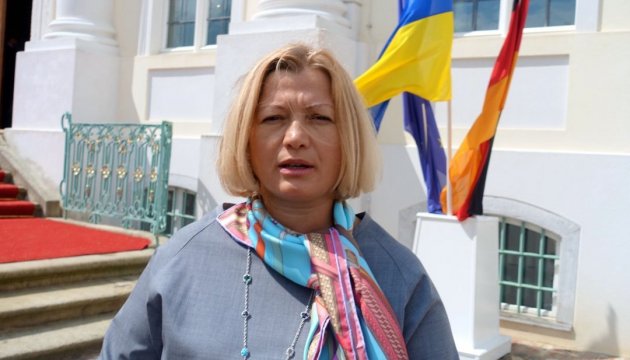 Gerashchenko urges UN Secretary General to take more active position on release of hostages
Ukraine's representative in the humanitarian subgroup of the Trilateral Contact Group in Minsk Iryna Gerashchenko has informed UN Secretary General António Guterres about the issue on release of Ukrainian hostages.
Gerashchenko wrote on Facebook that she took part in the meeting of Verkhovna Rada Speaker Andriy Parubiy with the UN Secretary General.
"I spoke about the release of the hostages, their number in the occupied territories is still 132, and 10 political prisoners and dozens of illegally detained Crimean Tatars remain in the Russian Federation. I informed the UN Secretary General that the release of the hostages had been blocked for a year, calling on the Secretary General and the UN to take more active position on the immediate release of all those illegally detained in the ORDLO and the Russian Federation. I stressed that since the conflict in the Donbas started the issue of access of the international humanitarian missions to the occupied territories had remained a problem," she wrote.
According to Gerashchenko, she also focused on sexual crimes in the conflict zone and appealed to the UN Secretary General with a request that his special representative for the prevention of sexual crimes and a special representative for the protection of children's rights visit Ukraine.
ish