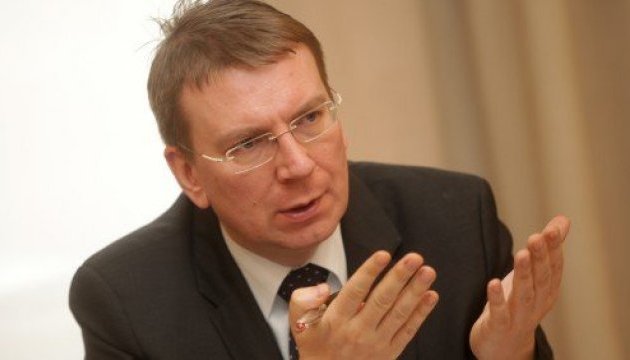 Latvian foreign minister: Ukraine has every chance of becoming EU member
Ukraine will still have support for the reform process, and the state should stimulate the interest of the business community in cooperation by ensuring the absolute rule of law.
Latvian Foreign Minister Edgar Rinkevics said this at the Ukraine Reform Conference in London on Thursday, an Ukrinform correspondent reports.
"I know that Ukraine wants to join the EU. It will not happen this year or next year, but we have the experience of the 1990s, when many people said that the Baltic countries would never join NATO and the EU. They said that we are able to conduct reforms, but they will tell you when the right time comes: they are like us and they deserve a place in the European family, "he stressed.
Rinkevics noted Ukraine's position and added that the success of the whole of Europe depended on Ukraine's success in confronting Russian aggression.
"We all understand that Ukraine is advanced not only in the fight against Russian aggression, but also advanced in defending our values. If you [Ukrainians] are successful, then this will have a positive impact on the success of the entire European Union, even wider, "he said.
Speaking about the reform process in Ukraine, he said that Ukraine would continue to see support in this process.
"We all understand that reforms are carried out not for the European Union or the international community, but for their own people. It seems to me that a lot has been done and we are ready to continue our support, " Rinkevics said.
op