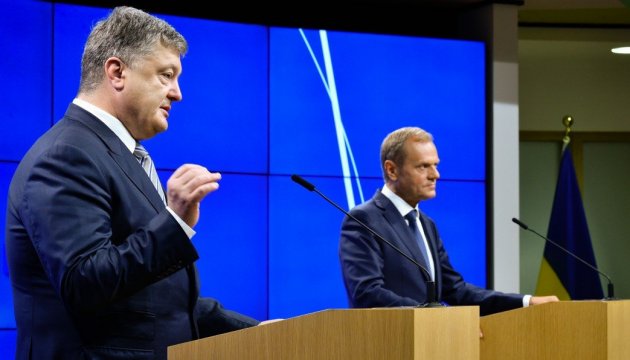 President Poroshenko: Ukraine fully committed to the criteria of reforms
President of Ukraine Petro Poroshenko states that Ukraine will fully implement all obligations undertaken under the Association Agreement with the European Union.
He said this in the press statement following the meeting with President of the European Council Donald Tusk.
"Ukraine is fully committed to the criteria of reforms and the Association Agreement with the EU. It is very important that we continue the implementation of the reforms despite war and a very difficult security situation," President Poroshenko said.
He also expressed gratitude to Donald Tusk for hospitality and said he was glad to discuss the coordination of actions aimed at returning peace in Ukraine and becoming more effective.
President Poroshenko also noted that these are the historic days for Ukraine "when after receiving the visa-free regime we say the final "farewell" to the USSR and the Russian empire. Poland, the Baltic states, other countries of eastern Europe did that 20-25 years ago and now we are doing everything possible to implement the reforms, for which you spent decades, in a very short period of time with your extremely valuable assistance and expertise".
In addition, President Poroshenko expressed hope "for continuation of the fruitful discussion in the course of the 19th Ukraine-EU Summit on July 12-13 in Kyiv".
iy