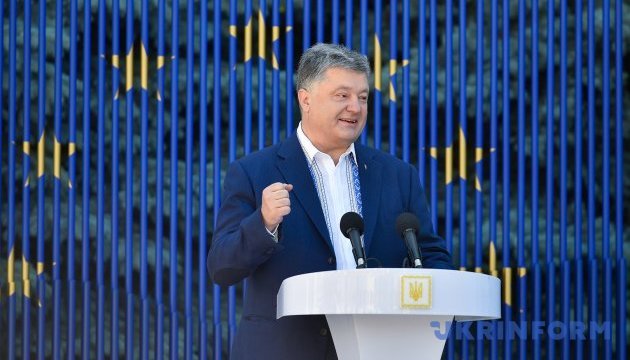 Poroshenko: I believe Ukraine will be in NATO and EU
President Petro Poroshenko is confident that Ukraine will become a member of the North Atlantic Alliance and will join the European Union.
The President said this at the launch ceremony of the "visa-free timer" in Kyiv today, the website of the Head of State reported.
"I believe - Ukraine will be a member of NATO, I believe - Ukraine will be in the EU and nothing, nobody will ever stop us," Poroshenko said.
The President recalled the words of great European - German Chancellor Willy Brandt "From now on, what is a whole will be developed as a whole".
"A single whole: Europe, EU and our fantastic state Ukraine," Poroshenko said. He also stressed that "the introduction of a visa-free regime is not a completion, but a powerful continuation of reforms."
In turn, Head of the EU Delegation to Ukraine Hugues Mingarelli said the visa-free regime will facilitate the development of relations between the EU and Ukraine, as well as strengthen contacts between Ukrainians and EU citizens.