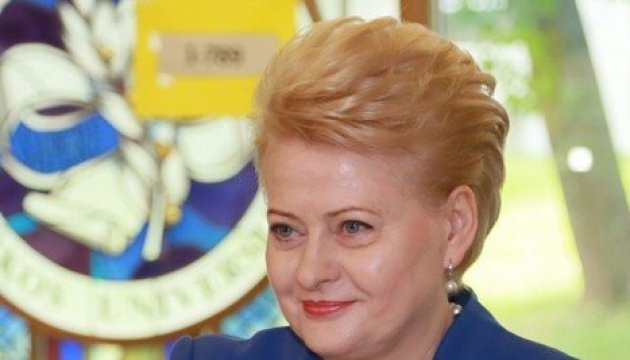 Grybauskaitė to make working visit to Kharkiv, hold meeting with Poroshenko
On Friday, June 9, President of the Republic of Lithuania Dalia Grybauskaitė will make a working visit to Kharkiv, where she will meet with President of Ukraine Petro Poroshenko.
This has been posted on the official website of the President of the Republic of Lithuania.
"At the meeting, Grybauskaitė and Poroshenko will discuss the security situation in Ukraine, the implementation of the Minsk agreements and the coming into effect of the EU-Ukraine Association Agreement. The Heads of States will discuss the necessity to continue the implementation of vital reforms, including fight against corruption, restructuring in the Office of the Prosecutor General, the judiciary and the public sector, as well as ensuring transparent environment for business," the report reads.
According to the press service of Grybauskaitė, the presidents will also meet with ATO fighters who received medical treatment in Lithuania.
In the afternoon, the President will launch the Days of Lithuania in Kharkiv. This is a traditional event, organized by the Lithuanian Embassy in Ukraine in different cities. "This year, it will be held in Kharkiv and Odesa and will include a bilateral business forum and a presentation of study and tourism opportunities in our country. Lithuanian culture will be represented by old crafts, traditional cuisine, folklore ensembles, and the Lithuanian rock group Biplan which has already earned popularity among Ukrainians," the statement said.
ish