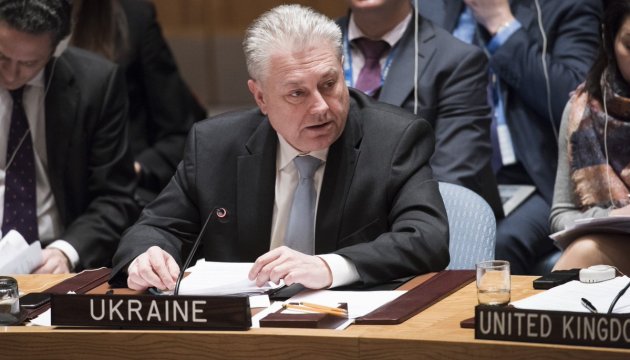 Ukraine's Representative to UN: Strategy should be developed to resolve root causes, which instigated ISIL's creation
Volodymyr Yelchenko, Permanent Representative of Ukraine to the United Nations says that even though ISIL has suffered numerous setbacks and defeats on battlefield recently, they still manage to organize attacks and establish groups to recruit people, and therefore needed measures should be undertaken to prevent this.
He stated this on Thursday at the UNSC briefing on the threats posed by ISIL, an Ukrinform correspondent reported.
"Recent terrorist attacks across the world reveal a new trend — to inspire rather than send fighters to carry out impromptu attacks in their own country, on the part of ISIL. These attacks are extremely hard to prevent," he noted.
Yelchenko stressed that it is known that ISIL established online groups to recruit and indoctrinate as well as to disseminate operational strategies through private channels. Thereupon the Ukrainian diplomat outlined some points on how these threats could be decreased.
First, by eliminating drivers fueling radicalization and promoting social cohesion states will greatly complicate terrorist tasks.
Second, development of counter-narratives will curb terrorist recruiters' efficiency in attracting new followers.
Third, fostering close contacts with local communities will go a long way in helping to early identify radicalized elements and to take necessary actions to disrupt terrorist plots," Yelchenko said.
At the end of his speech, Yelchenko also stressed that this terrorist organization has demonstrated its ability "to regenerate and change shape".
Therefore, according to Ukraine's Permanent Representative to the UN, "the international community has to develop a strategy that will address and resolve root causes, which instigated ISIL's creation, to prevent its resurrection".