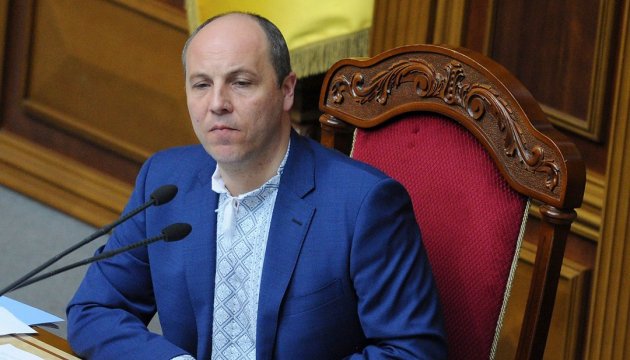 Speaker Parubiy signs law banning St. George ribbon, and law on language TV quotas
Verkhovna Rada Chairman Andriy Parubiy has signed the law banning St. George ribbon and the law introducing quotas for the use of the Ukrainian language on Ukrainian TV.
This has been reported by an Ukrinform correspondent.
As Ukrinform earlier reported, the Verkhovna Rada on May 23 adopted a law on amending certain laws of Ukraine on the language of audiovisual (electronic) media, which envisages that the weekly share of TV programs and films in the state language must be at least 75% in each time span between 07:00 and 18:00 and between 18:00 and 22:00 for national and regional television and radio broadcasting organizations and at least 60% for local broadcasting companies.
On May 16, 2017, the Verkhovna Rada passed a law on amendments to the Code of Ukraine on Administrative Offenses regarding the ban on the production and distribution of the so-called St. George (Guards) ribbon
On May 25, the Verkhovna Rada of Ukraine refused to approve a draft resolution submitted by two MPs from the Opposition Bloc faction to abolish a law banning the production and distribution of St. George ribbon.
The so-called St. George ribbon is a widely recognized military symbol in Russia.
iy