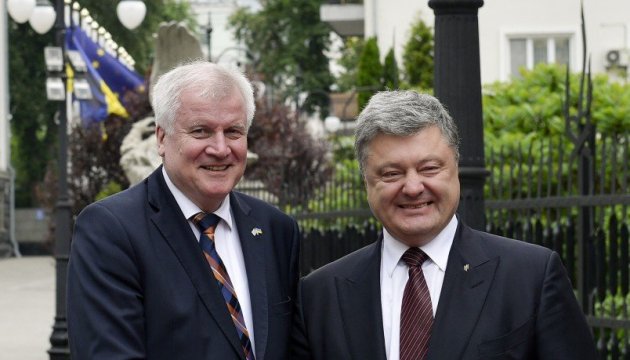 President of Ukraine, PM of Bavaria discuss situation in Donbas
President of Ukraine Petro Poroshenko held a meeting with Horst Seehofer, Prime Minister of the Free State of Bavaria, who was on an official visit to Ukraine on the invitation of the Ukrainian President. Among other members of the delegation were Barbara Stamm, President of the Bavarian parliament, and Beate Merk, Minister of State for European Affairs and Regional Relations of Bavaria, the Ukrainian president's press service reported on Thursday evening.
"The sides discussed the development of the situation in Donbas. The President of Ukraine briefed [the Prime Minister of Bavaria] on the latest destructive steps of Russia aimed at undermining the Minsk agreements. The President emphasized the importance of keeping the sanctions pressure on Moscow, which is the key to restoring not only the peace in Ukraine, but also preserving the European order," reads the report.
Seehofer confirmed that the normalization of cooperation with Russia is possible only if Moscow fulfills the Minsk agreements.
iy