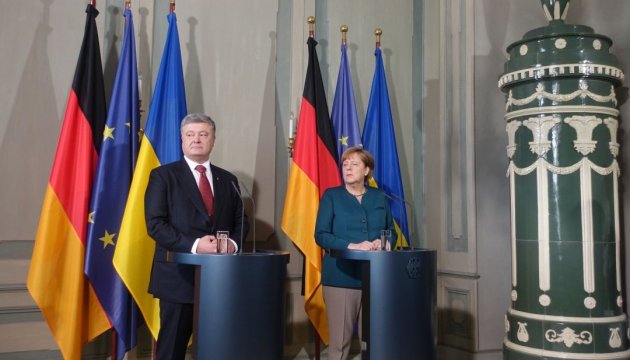 Poroshenko, Merkel discuss situation in Ukraine and Minsk process
President of Ukraine Petro Poroshenko and Chancellor of Germany Angela Merkel discuss the situation in Ukraine and the Minsk process, as well as the Ukraine-EU relations.
This has been reported by the press service of the Head of State after the meeting of the President of Ukraine and the Chancellor of Germany on Saturday.
During the meeting, significant attention was paid to the improvement of the efficiency of the Minsk agreements implementation - fulfillment of the ceasefire requirement, withdrawal of heavy artillery, liberation of hostages and implementation of the entire security complex necessary for the achievement of peace in Donbas.
The German Chancellor emphasized that sustainable truce hasn't been established yet and the Minsk agreements are not implemented in full. She noted that the parties discussed future work within the Minsk agreements and the Normandy format.
The parties also discussed the agenda of the reforms in Ukraine. The President expressed gratitude to Germany and the EU for their active support in the internal reforms. The Chancellor of Germany praised the progress in this issue and emphasized the need for continuing the process of reforms in Ukraine.
Petro Poroshenko also thanked the German Chancellor and other European leaders for their support in the introduction of the visa-free regime
ish