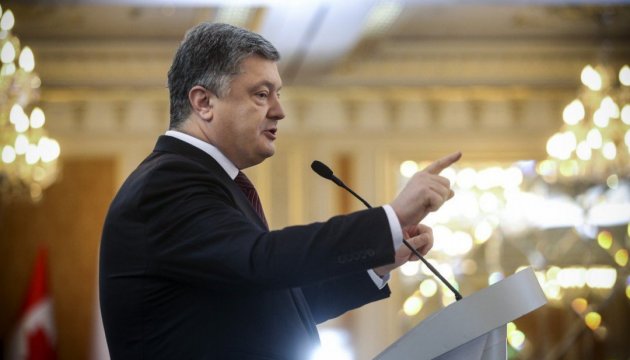 President Poroshenko: Kremlin's aggression grows ahead of presidential elections in Russia
Russia will become even more aggressive as the 2018 presidential elections near in order to divert the attention of Russian citizens from the internal problems. Therefore, the West and Ukraine should be ready to give a joint response to this threat.
President of Ukraine Petro Poroshenko said this during the 10th Kyiv Security Forum, an Ukrinform correspondent reports.
"The Kremlin is getting ready for the 2018 presidential elections and is becoming more aggressive to hide its weakness. Russia has changed its tactics in Donbas, creating quasi-states, it intensifies repressions in Crimea to silence the dissidents and persecutes the opposition in a completely unconstitutional way. Playing with muscles and creating a vacuum in the Europe's security area, Russia diverts attention from its internal problems," Poroshenko said.
The President noted that Ukraine should surprise Russia with its determination, the strength of unity and solidarity in the face of aggression. "We have all the tools to curb Russia's aggressive behavior. The sanctions are exactly the instrument to restrain the Kremlin and force it to change its behavior," the President stressed.
ol