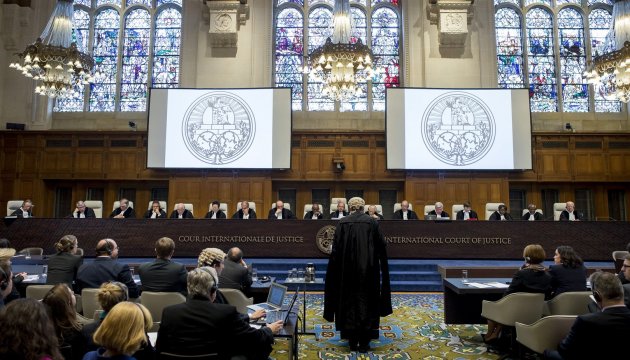 Ukraine vs Russia: Case in UN Court numbers over 800 volumes, of which 300 classified
President of Ukraine Petro Poroshenko says that the lawsuit to the United Nations International Court of Justice (UN ICJ) has become the first step of Ukraine on bringing Russia to justice for crimes committed against Ukrainian citizens in annexed Crimea and Donbas.
President Poroshenko said this at a meeting with Ukraine's representative in the UN International Court of Justice in The Hague, Deputy Minister of Foreign Affairs of Ukraine on European Integration Olena Zerkal, Minister of Foreign Affairs Pavlo Klimkin, Minister of Justice Pavlo Petrenko, Prosecutor General Yuriy Lutsenko and Head of the Security Service Vasyl Hrytsak.
"Our team in the UN ICJ fights for the fair punishment of those guilty in thousands of casualties as a result of terrorist attacks in the Ukrainian Donbas; those who supplied tanks, modern artillery, MLRS, armored vehicles, ammunition, missiles used to shell Avdiivka, Kramatorsk, Mariupol, civilian bus in Volnovakha and shoot down the MH-17 flight," President Poroshenko said.
Ukraine's representative in the UN ICJ Olena Zerkal, in turn, thanked the President and ministers for support and joint work in representing the reasoned position of Ukraine on this case.
"We continue to protect the interests of Ukraine in line with the Maritime Convention, and early as in May, the first hearings will be held that will be dedicated to issues on the procedure," she added.
Prosecutor General Yuriy Lutsenko, in turn, said that more than 800 volumes of evidence were collected in the case "Ukraine vs. Russia", of which 300 volumes were marked as "classified" and "highly classified". During the preparation of materials, 1,400 victims, 2,000 witnesses were questioned, 1,800 forensic examinations were held and 100,000 pieces of material evidence were gathered. Also, according to Lutsenko, the Prosecutor General's Office prepared bills of indictments that had already been sent to the leaders of terrorist organizations and to the court.
iy