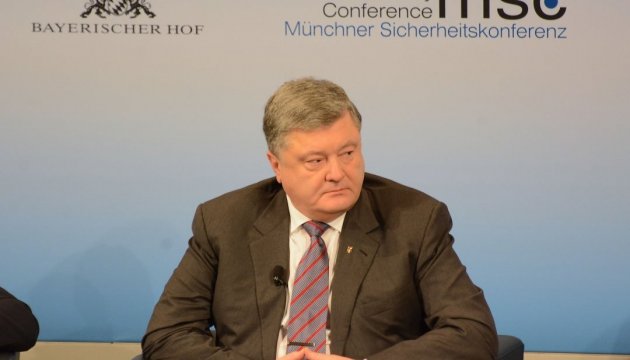 President: Nothing about Ukraine must be agreed without Ukraine
President Petro Poroshenko has stated that the appeasement policy will not stop the aggressor and any agreement with Russia behind Ukraine is impossible and will only aggravate the situation.
President Petro Poroshenko said this in the course of the panel discussion "The Future of the West: Downfall or Comeback?" at the 53rd Munich Security Conference, the press service of the Head of State reported.
"My message is simple - Nothing about Ukraine without Ukraine! Any deal with Putin behind Ukraine would only aggravate the situation," Poroshenko said.
The President noted that he received exact confirmation of unity and solidarity for the sake of peace speaking to new U.S. Secretary of State Rex Tillerson and hearing speeches by President of Poland Andrzej Duda and U.S. Senator John McCain.
"This is exactly what we need now. Supporting Ukraine is the only way to stop the ongoing aggression and bring Russia back to respecting the international law and the Global Order," Petro Poroshenko stressed.
ish