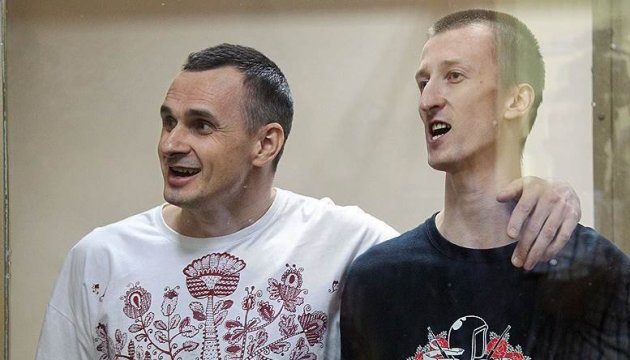 Russia again refuses to extradite political prisoners Sentsov and Kolchenko
Russia has again refused to extradite Ukrainian political prisoners Oleg Sentsov and Oleksandr Kolchenko, stating they are citizens of Russia.
Deputy Justice Minister of Ukraine Serhiy Petukhov posted this on his Facebook page.
"This 'citizenship' was forcibly imposed on all the residents of Crimea after Crimea had been annexed. Both these actions of Russian are void under the international law," he wrote.
Petukhov assured that Ukraine would seek the return of political prisoners through the international organizations that have an impact on Russia as well as within the framework of the lawsuits filed at the European Court of Human Rights.
Ukrainian filmmaker Oleg Sentsov and activist Oleksandr Kolchenko were detained by Russian security services in Crimea in May 2014 on charges of plotting terrorist attacks on the peninsula.
August 25, 2015, the North-Caucasian Military Court in Russia's Rostov-on-Don sentenced Oleg Sentsov and Oleksandr Kolchenko to 20 and 10 years in a penal colony respectively for alleged "plotting acts of terrorism."
ol