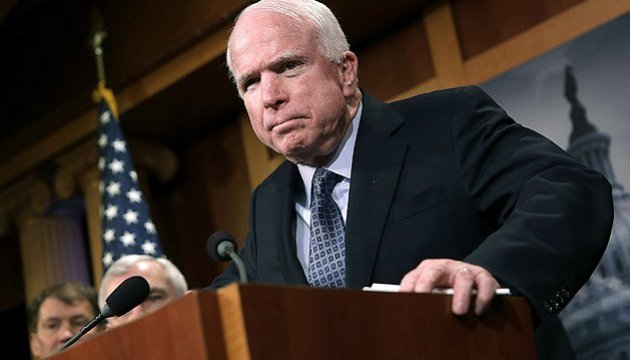 John McCain calls on Trump to provide defensive lethal assistance to Ukraine
Chairman of the US Senate Armed Services Committee, John McCain sent an open letter to US President Donald Trump yesterday urging the president to provide the defensive lethal assistance to the Ukrainian forces needed to defend themselves against Russian aggression and enhance economic pressure on Russia.
The text of the letter has been posted on the official website of the senator, Ukrinform reports.
"Vladimir Putin's violent campaign to destabilize and dismember the sovereign nation of Ukraine will not stop unless and until he meets a strong and determined response," the senator noted.
John McCain stressed that in the wake of recent Russian attacks and the prospect of future aggression against Ukraine, he urged President Trump "to exercise the authority given to you by the National Defense Authorization Act for Fiscal Year 2017 to provide defensive lethal assistance to Ukraine to defend its territory against further violations by Russia and its separatist proxies".
At the same time, John McCain noted that Russia continues to occupy Crimea and destabilize Ukraine. in connection with this he called on President Trump "to maintain current sanctions against Russia".
iy