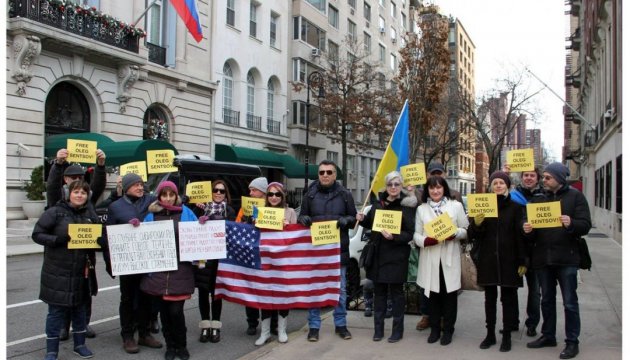 Rally in support of Oleg Sentsov held in New York
The activists held a rally in support of Ukrainian director Oleg Sentsov, who is currently imprisoned in Russia, near the premises of the Russian Consulate in New York on December 31.
This was posted on Free Oleg Sentsov page on Facebook.
"Our small but friendly flashmob in support of illegally imprisoned Oleg Sentsov near the Russian consulate in New York. Thanks to everyone for coming," activist Andriy Zagdansky wrote.
Ukrainian filmmaker Oleg Sentsov was detained by Russian security services in Crimea in May 2014 on charges of plotting terrorist attacks on the peninsula.
August 25, 2015, the North-Caucasian Military Court in Russia's Rostov-on-Don sentenced Oleg Sentsov and Oleksandr Kolchenko to 20 and 10 years in a penal colony respectively for alleged "plotting acts of terrorism."
ol