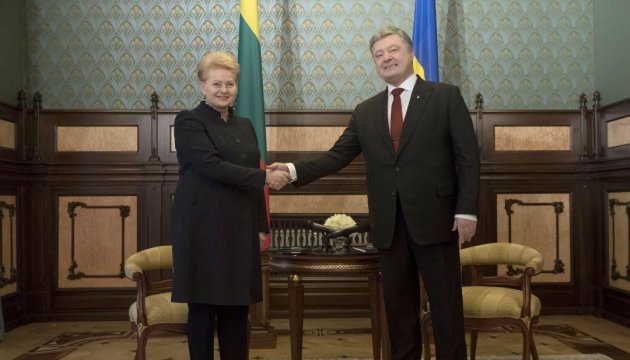 Lithuania supports Ukraine at all levels - President Grybauskaitė
President of Lithuania Dalia Grybauskaitė noted the importance of supporting Ukraine at all levels - international and bilateral.
The President of Lithuania said this at a joint press conference with President of Ukraine Petro Poroshenko, the website of the Head of State reported.
The President of Lithuania also noted the assistance for Ukraine in military sphere, particularly the provision of military instructors and enhancement of interaction between Ukrainian and Lithuanian servicemen in the format of the Ukrainian-Polish-Lithuanian battalion.
"Our people always keep Ukrainians in their hearts. Everything that happens in Ukraine is extremely important for us. I want to send my warmest feelings from Lithuanians to all Ukrainians. We stand by your side in all your challenges. And we do everything to help you," Dalia Grybauskaitė said.
ish