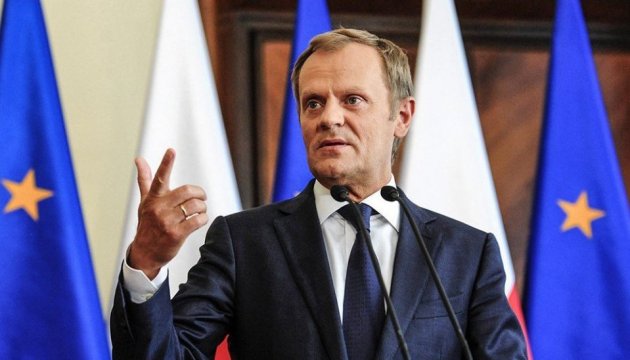 MEPs call on Tusk to speed up Ukraine's rapprochement towards EU
The group of MEPs from the four factions appealed to President of the European Council Donald Tusk asking him for further support for Ukraine on its way to Europe.
The MEPs call on Tusk to convince the Netherlands of the need for positive decision regarding the EU-Ukraine Association Agreement and speedy granting Ukraine visa-free regime. The appeal was initiated by Polish MEP Michał Boni, an Ukrinform correspondent reports from Poland.
"We kindly ask you to conduct within diplomatically acceptable steps the negotiations with the government of the Netherlands regarding the ratification of the Association Agreement with Ukraine and possibly fasten positive decision for the visa-liberalization process for Ukraine," the appeal reads.
As noted, "it will send a strong signal to the Russian Federation that its aggression will not be tolerated and that Ukraine is a key partner in a secure alliance."
As MEPs note the EU-Ukraine Association Agreement proved to be "a powerful and effective instrument for implementation of comprehensive reforms in Ukraine in accordance with European standards, as well as the road map, which enjoys full support of the majority of Ukrainians."
The appeal was signed by members of the European People's Party (EPP) Michal Boni, Mariya Gabriel, Jaromir Stetina, Danuta Hubner, Pavel Svoboda, Petras Austrevicius from the Alliance of Liberals and Democrats for Europe (ALDE), Mark Demesmaker from the faction of the European Conservatives and Reformists (ECR), and Tibor Szanyi and Marju Lauristin from the Progressive Alliance of Socialists and Democrats (S&D).
ol