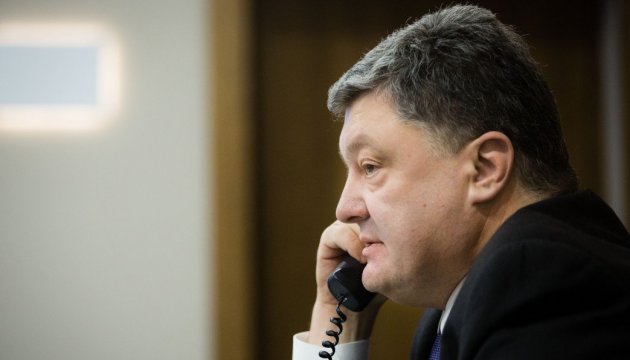 Normandy format leaders to hold phone conference next week without Putin
President Petro Poroshenko had a phone conversation with President of France Francois Hollande. The conversation was also joined by Foreign and Security Policy Advisor to the German Chancellor Christoph Heusgen who apologized that Angela Merkel had been unable to take part in the conversation.
This is reported by the press service of the Head of State.
"Petro Poroshenko informed on the deterioration of the security situation in Donbas, particularly the increased shelling carried out by Russian militants using, inter alia, heavy artillery. He also drew attention to the absence of the OSCE permanent observation points in the areas of troops delimitation," the statement reads.
As noted, the Presidents of Ukraine and France agreed on special importance of the security component, which still has not been fulfilled by Russia and must be the primary part of the road map for the implementation of the Minsk agreements.
The Head of State noted that Moscow blocked the process of releasing hostages, which is absolutely inadmissible.
Petro Poroshenko and Francois Hollande agreed to continue consultations in Minsk at the level of diplomatic advisors to the Heads of State of the Normandy format. Following the consultations, the leaders of Ukraine, France and Germany will carry out a phone conference next week.
President Poroshenko thanked delegations of Germany and France for supporting the PACE resolution on the necessity of preserving sanctions against Russia.
The President of Ukraine urged the EU countries to speed up the process of granting the visa-free regime for Ukrainians and ratification of the Association Agreement.