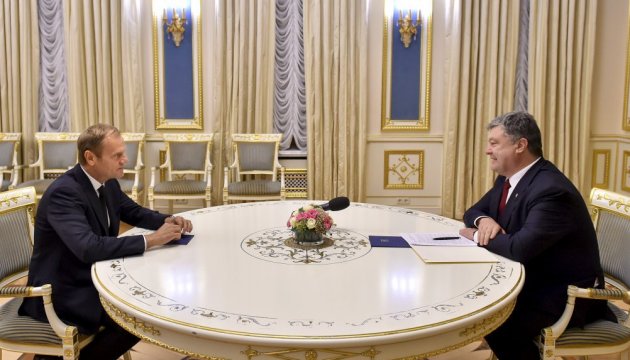 President of Ukraine held negotiations with President of European Council
President Petro Poroshenko held negotiations with President of the European Council Donald Tusk who arrived in Ukraine to participate in events on the occasion of the 75th anniversary of the Babyn Yar tragedy.
This has been reported by the press service of the Head of State.
Poroshenko expressed gratitude to the President of the European Council for consistent personal support for Ukraine in its struggle against the Russian aggression and implementation of reforms.
Petro Poroshenko informed on the developments in Donbas and the efforts of Ukraine in the implementation of the Minsk agreements in the context of discussion of future relations between the EU and Russia during the European Council's session of October 20-21.
Donald Tusk welcomed successful efforts of the Ukrainian authorities on the track of reforms, confirmation of which was the IMF decision to restore the program of cooperation with Ukraine. He called that a positive signal of support for the real progress in reforms, including struggle against corruption.
ish