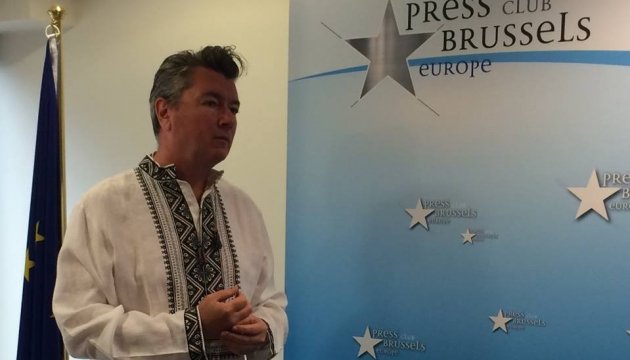 Gary Cartwright, British publisher and journalist
Don't tell me it can't happen again: Babi Yar 75 years on
"All Yids of the city of Kyiv and its vicinity must appear on Monday, September 29, by 8 o'clock in the morning at the corner of Mel'nikova and Dorohozhytska streets (near the Viis'kove cemetery). Bring documents, money and valuables, and also warm clothing, linen, etc. Any Yids who do not follow this order and are found elsewhere will be shot. Any civilians who enter the dwellings left by Yids and appropriate the things in them will be shot."
This order was posted in Kyiv, 75 years ago, on or around 26 September 1941, just one week after Nazi forces occupied the city.
The Jewish population had been led by the occupiers to believe that they were to be resettled, the deception being so successful that even the Germans were surprised by the response. Underestimating the size of the Jewish population, and expecting 5-6000 people, they were met by over 30,000.
The Jews were stripped of their posessions and marched to the deep ravine at Babi Yar where they were systematically murdered by machine guns. Such was the crush that there was little chance of escape. Over two days 33,771 men, women, and children were to die, many having been buried alive. Only 29 were to survive.
In the Summer of 2015 I visited Babi Yar for the first time: the feelings of horror I experienced as I looked down into the ravine were overwhelming - this is a place where the unthinkable actually happened.
We like to reassure ourselves that "it can never happen again". But it can happen, and signs are that it is happening.
The rise of the far-right in Europe is gathering pace. The facists are using fears of immigration, linking migrants to economic downturn, rising unemployment, and social change, in order to fan the flames of discontent. These are the politics of fear, of hatred, of violence, and this is precisely how the Nazis did it. Precisely.
Recently in England a young Polish man was beaten to death in the streets for nothing other than that he was speaking Polish in public. This is the legacy of the far-right's Brexit campaign, an otherwise legitimate campaign that was hijacked in much the same way that the eurosceptic cause in France has been taken over by the far-right Front Nationale, a party with a history of anti-semitism and Holocaust denial.
And so it goes in the Netherlands, and Germany, and Austria, and Switzerland, and Hungary, and Sweden, and Greece.....
That the far-right parties are being backed, and in many cases funded, by the Kremlin should ring alarm bells.
In 1944, on the orders of the Kremlin, more than 230,000 Tatars were deported from Crimea. More than 100,000 were to perish.
When Vladimir Putin invaded and ilegally annexed Crimea in 2014, he became the first leader to carry out such an act against another European country since Adolf Hitler.
Now the Tatars are again being targeted. Parliament closed, villages demolished, Tatar language media shut down, families seperated, and prominent members of the community have simply "disappeared".
As in Georgia, which Russia invaded in 2008, and in Eastern Ukraine now, it is ethnic differences that form the basis for policy and action.
Now Putin's forces are massing not just on the border with Ukraine, but also on the Finnish and Baltic state borders.
So please don't tell me that it cannot happen again.