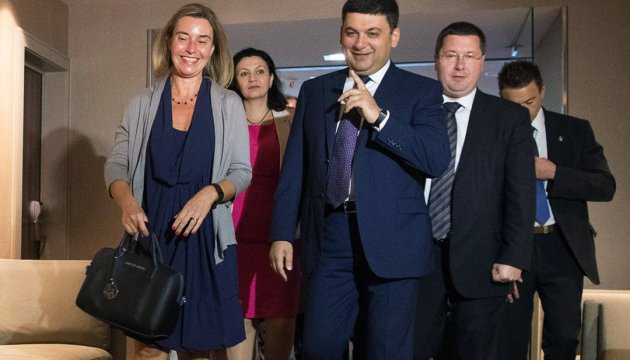 PM Groysman, Federica Mogherini agree to hold EU-Ukraine Association Council meeting
Prime Minister of Ukraine Volodymyr Groysman has met with EU High Representative for Foreign Affairs and Security Policy Federica Mogherini in Brussels on Wednesday.
This is reported by the Government portal.
"The parties discussed agenda of the EU-Ukraine relations, including the introduction of a visa-free regime for Ukraine, ratification of the EU-Ukraine Association Agreement, as well as macro-financial assistance to Ukraine. Federica Mogherini assured of the readiness to resolve these issues soon," the statement reads.
As noted, special attention was paid to the security situation in Ukraine, particularly, the Donbas conflict and implementation of the Minsk agreements. Volodymyr Groysman noted that "full implementation of the security provisions by Moscow is a key prerequisite for overall progress in settling the situation in Donbas."
It was agreed to hold the meeting of the EU-Ukraine Association Council, co-chaired by Volodymyr Groysman and Federica Mogherini, at end of 2016.
ol