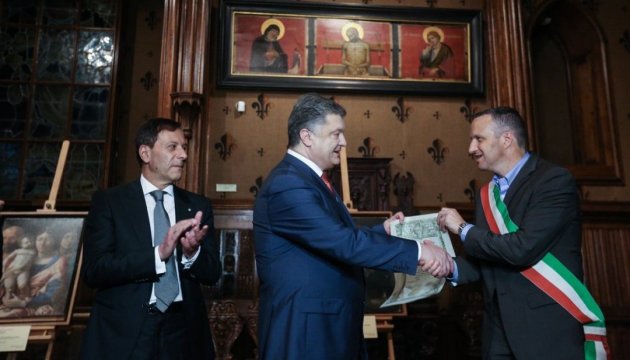 Poroshenko, mayor of Verona attend exhibition of Italian paintings intercepted by Ukraine border guards
President of Ukraine Petro Poroshenko and Italian mayor of Verona Flavio Tosi have attended the Khanenko Museum in Kyiv to see the paintings stolen from an Italian art museum that the Ukrainian border guards seized in early May on the border with Moldova, Ukrinform reports.
"I welcome you at the opening of a unique exhibition of 17 paintings done by internationally renowned artists. I am very pleased that Ukrainian community will be able to see these great works of art for the first time. The exhibition features also works by Rubens, Tintoretto, Pisanello, Caroto and Mantegna – the unique works of art which are treasure of the Castelvecchio museum in Verona," Poroshenko noted.
He said that this exhibition symbolizes very responsible approach that Ukraine and the Ukrainian authorities are taking towards their cultural heritage as well as towards the cultural heritage of European nations.
tl