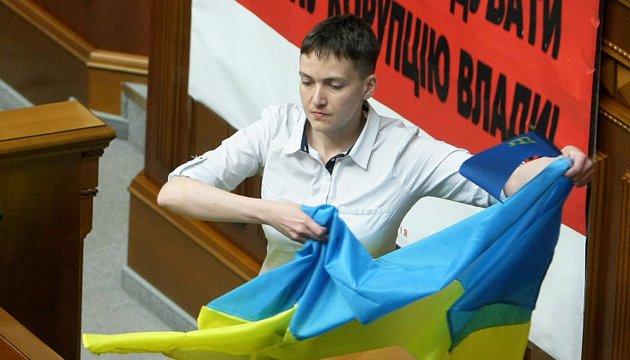 MP Savchenko: I won't let you forget the boys who died for Ukraine on Maidan and those giving their lives in ATO zone
Batkivshchyna Party MP Nadiya Savchenko has said she will not allow MPs to forget the participants of the Kyiv Maidan and servicemen fighting in the ATO who give their lives for Ukraine, Ukrinform reports.
Speaking in Parliament, during her first speech from the floor of the session hall, she told legislators "I have come back and taken up my job. I will not let you, who are sitting in these chairs in the Verkhovna Rada, forget those boys who started laying their lives for Ukraine on [Kyiv's] Maidan and are still perishing in Donbas. I will not permit you to forget, because if any of you were at the cemetery, you could have felt everything I felt - they are not lying, they are standing. They are standing for Ukraine and they will not lie at rest there until we get back that Ukraine for whom they gave their lives and which we dream about," said Savchenko.
She noted that nothing is forgotten, nobody is forgotten and nothing is forgiven. "The people of Ukraine will not let us sit in our chairs if we betray them. Ukraine is above everything, but for us in this hall, Ukraine is above the lives of each one of us," Savchenko noted.
She has also thanked all the Ukrainians in the world who raised public awareness and supported her when she was in Russian captivity.
The lawmaker concluded her speech by singing the Anthem of Ukraine, after which most MPs started to sing.
tl