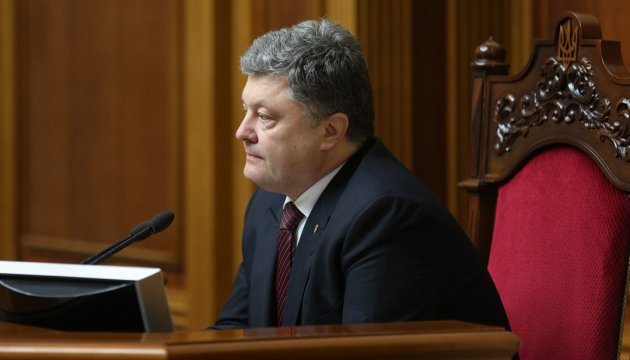 Attempts to disrupt peace process lead only to continuation of occupation of part of Donetsk and Luhansk regions - President
President Petro Poroshenko emphasized that political and diplomatic settlement was the only opportunity to restore Ukrainian sovereignty over the occupied areas of Donbas.
The press service of the Head of State reported.
"I cannot but say a few words about today's march in Kyiv. Russian TV channels were the first to broadcast those images - tires, firecrackers, reports about wounded policemen and civilians. These staged pictures are spread in order to demonstrate that someone is allegedly trying to destabilize the country. I emphasize once again – there is no military way to return Donbas," Poroshenko noted at the NSDC meeting.
The President emphasized that the key position for Ukraine was to ensure global solidarity and support, which, in its turn, ensures proper security level, liberation of hostages, withdrawal of occupation troops, political principles of settlement, restoration of Ukrainian control over the state border etc.
In addition, it provides an opportunity to ensure the efficient use of the special monitoring mission and the deployment of the OSCE special armed police mission that will help ensure the transition period peacefully.
ish