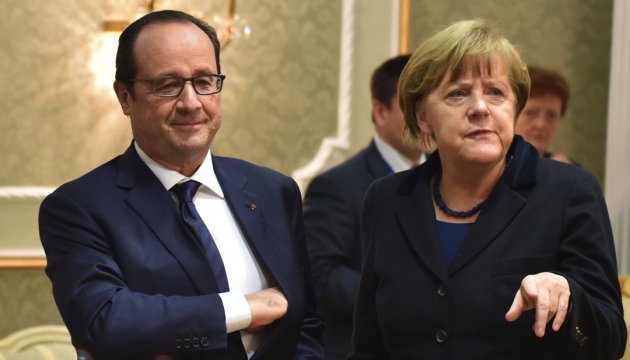 Poroshenko urges France, Germany to step up pressure on the Kremlin
President of Ukraine Petro Poroshenko urged the Federal Republic of Germany and France to step up pressure on Russia due to escalation in Donbas conflict area.
Poroshenko said this in a telephone conversation with French President Francois Hollande and German Chancellor Angela Merkel, the press service of the Head of State reports.
"It is difficult to discuss the possibility of holding local elections without solving the issues of security in general and the police mission in particular," the President said.
The parties coordinated positions on the prospects of deploying the OSCE police mission in Donbas and discussed the continuation of sanctions against Russia for the non-fulfillment of the Minsk Agreements.
Petro Poroshenko, Angela Merkel and Francois Hollande drew attention to the deterioration of health of Nadiya Savchenko and urged the Russian leaders to liberate her immediately, as stipulated by the Minsk Agreements.
The parties also discussed the terms of the visa-free regime provision for Ukrainians and the results of the Dutch referendum.
ol