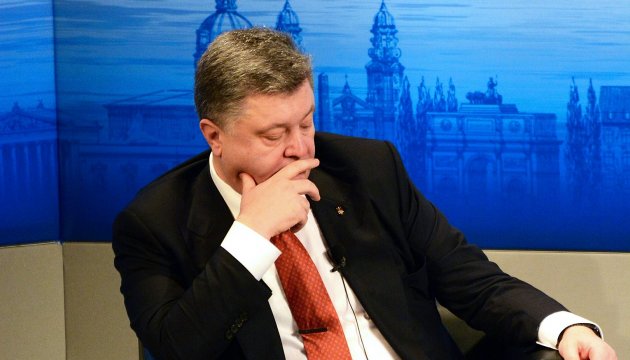 Poroshenko admits he follows U.S. presidential race
President of Ukraine Petro Poroshenko has admitted that he's interested in the presidential race in the United States as the whole worldso does.
He told in an interview with U.S. Fox News television channel, which was aired in the U.S. on Monday night.
"Of course, I think about it as the rest of the world does," said the head of Ukrainian state replying to the question whether he pays attention to the American politics and the presidential race in particular.
At the request of his interviewer to comment on his vision Poroshenko diplomatically said: "I rely on the responsible choice to be made by the American people."
At the same time he expressed his belief that the United States as the world leader "should be aware of their role and responsibility."
In connection with this the President of Ukraine recalled his speech of September 18, 2014 in U.S. Congress. "I was very impressed by a unique feeling, unique level of support and confidence that the American people, Congress and U.S. Senate have demonstrated in relation to Ukraine," Poroshenko noted.
Ukraine President has expressed his opinion that Ukraine's struggle for freedom and democracy in a certain way has united the American people, regardless whether they are Democrats or Republicans.
"And I'm very grateful to all Americans for this unique support of Ukraine," he said.
tl