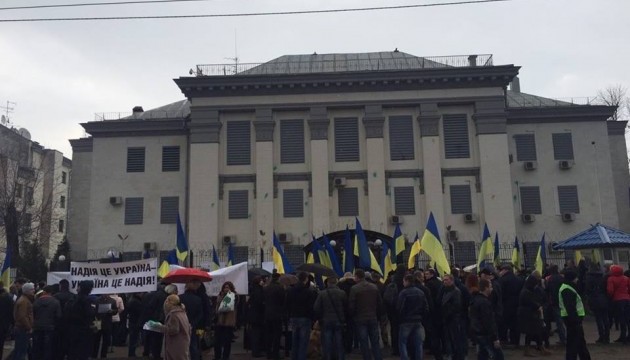 Moscow to demand compensation from Kyiv following attack on its embassy
Russia will demand compensation from Ukraine in connection with a recent attack on the Russian embassy in Kyiv.
Russian Foreign Minister Sergey Lavrov told in an interview with REN TV channel on Thursday March 10, interfax.ru reports.
"Of course we will demand compensation for damages," he said replying to a question.
As mass media reported, within recent days protests were held by Ukrainians outside diplomatic missions of Russia in Kyiv and other cities of Ukraine with a demand to release Nadiya Savchenko. Incidents of vandalism were reported at those protests.
In the early morning of March 10 a few unknown persons threw Molotovs at the entrance to the embassy of the Russian Federation in the capital city of Kyiv.