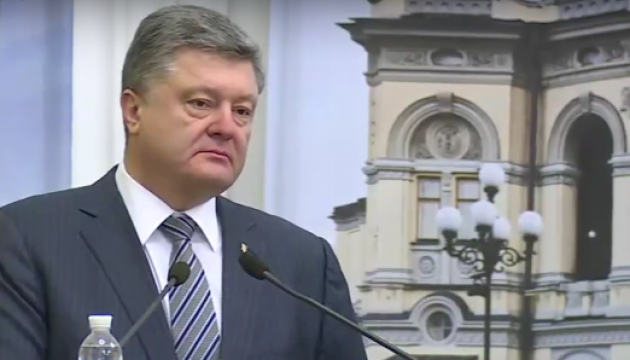 Poroshenko about Sentsov's imprisonment: Little has changed in Russia since time of Shevchenko
Ukrainian President at a ceremony of awarding the Taras Shevchenko National Prizes of Ukraine has said that little has changed in Russia since the time of Shevchenko, when people were sent into exile in Siberia.
"The fight for independence is still going on. Hundreds of Ukrainian patriots are held captive for defending territorial integrity and freedom of Ukraine. Film director Oleg Sentsov is among them. And unfortunately, I can't present the Shevchenko prize to Oleh," Poroshenko said.
The president also said that modern Russia surpassed the Soviet Union, as in the USSR, people were forcefully deprived of Soviet citizenship, while at present people can be forcibly declared Russian citizens.
"Oleg Sentsov was, is and will be a citizen of Ukraine. Moreover, he is a great citizen. Now he is been transported under guard in Yakutia… As you can see little has changed since the time of Shevchenko. I'm sure that the day will come and Oleg Sentsov will return from Russian captivity," Poroshenko stressed.
The president also assured that he is doing everything possible so that the Ukrainian film director can be released as soon as possible.
iy