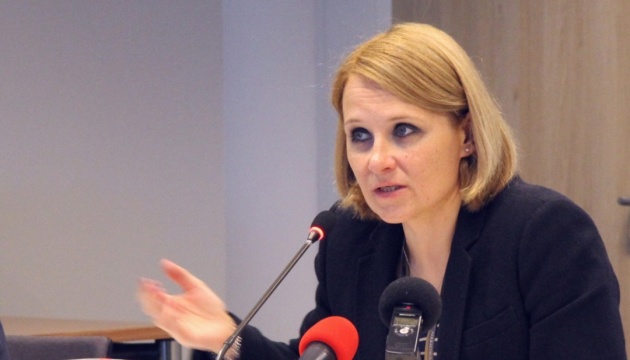 EU reacts to developments in Parliament: Ukraine's leadership should continue reforms without oligarchs' impact
The European Union has emphasized on the necessity for continuing reforms in Ukraine, including countering the influence of oligarchs on politicians.
Spokesperson for EU Foreign Affairs and Security Policy Maja Kocijancic told the Ukrainform's own Brussels correspondent in her exclusive comments while expressing the EU position on hearings and resolutions in Ukraine Parliament regarding the government performance report.
"The EU is closely following developments in this week's plenary session of the Verkhovna Rada. At this critical juncture, it is essential that the country's political leaders maintain focus on the important work towards reforms," Kocijancic noted.
The EU believes that "the current crisis is an opportunity to increase quality of work and to convince citizens that leaders of Ukraine are able to embrace the challenge of systemic transformation."
She reminded that "reforms ought to be implemented in line with the AA/DCFTA, rule of law, fight against corruption and democratic accountability.
Meanwhile, the EU has admitted that the Ukrainian authorities have done substantial work over the past months to move forward the reform agenda for the benefit of the Ukrainian people.
"We see a new quality of democracy thanks to much bigger transparency an openness of all institutions, decentralization, deregulation, generalization of public procurements, police reform, effective use of all institutions and legal instruments to eliminate corruption," Kocijancic said.
Additionally, the EU has pointed out the importance of a push towards more reforms in the sphere of economy is needed, in order to lay fundaments for economic growth.
According to the EU representative, Ukraine authorities should demonstrate more resolve action against oligarchic influence over political structures and effective action against monopolies, privatization of SOE [state-owned enterprises] in order to ensure more effective management and eliminate loss generating structures, further empowering of local self-governments, reform of public administration, including fiscal and tax service.
"The EU stands ready to continue its substantial financial and technical support for dedicated reform efforts in Ukraine," noted Kocijancic.