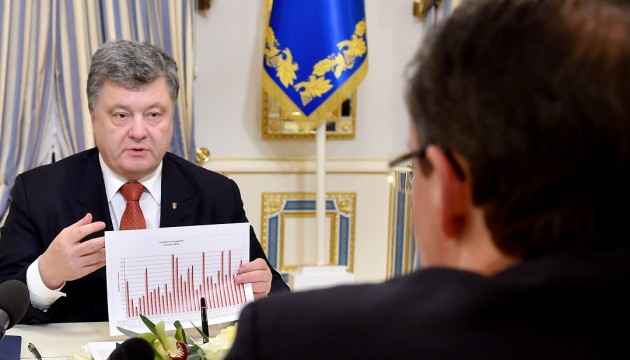 President, Bundestag delegation discuss sanctions against Russia
President of Ukraine Petro Poroshenko has met with the delegation of the German Bundestag Committee on the Affairs of the European Union led by Committee Chair Gunther Krichbaum during the visit of the parliamentarians to Ukraine.
This is reported by the press service of the Head of State.
"The sanctions are an effective mechanism that encourages Russia to comply with the Minsk Agreements," Poroshenko said, expressing gratitude for the Bundestag's attention to the peaceful settlement of the situation in Donbas and support for Ukraine in countering Russian aggression, restoration of its territorial integrity.
The President also praised the results of talks with German Chancellor Angela Merkel in Berlin on February 1, 2016, which confirmed the common vision of the parties to implement the Minsk Agreements and to continue the sanctions. In this context, the President stressed the need to preserve the unity of the European Union.
The representatives of the German Bundestag confirmed that sanctions were "working". Committee Chair Gunther Krichbaum added that "Ukraine can rely on full support of Germany" and assured that the sanctions would remain until Russia fulfilled the Minsk peace accords.
ol