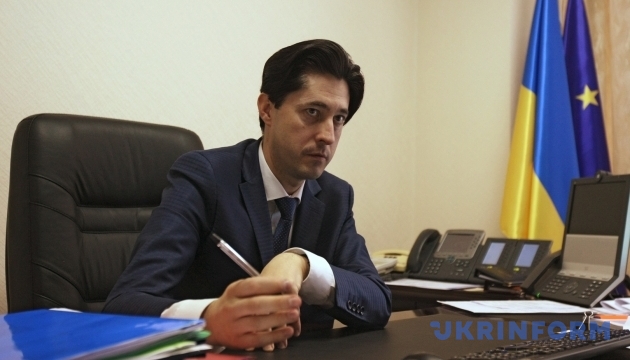 Vitaly Kasko, Deputy Prosecutor General: "Diamond prosecutors" are protected by senior officials at PGO's investigation department
Deputy Prosecutor General Vitaly Kasko gave an interview to Ukrinform about details of high-profile cases.
Deputy Prosecutor General Vitaly Kasko heads the department that deals with high-ranked officials who are investigated for their crimes and he is also responsible for international cooperation. In particular, he is involved with returning funds to Ukraine which are kept in the seized accounts of the Yanukovych "family" members. He has held senior positions during eight prosecutors and he managed to resign three times. His last comeback to the PGO dates May 2014 at the invitation of Oleh Makhnitsky. About his duo with another Deputy Prosecutor General - David Sakvarelidze - Ukrainians found out after notorious detention of the so-called "diamond prosecutors." Then Kasko was in charge of procedural oversight of the operation. Soon he said that his prosecutors face criminal investigation into their cases. Because of this the scandal in the PGO resulted in the resignation of First Deputy Prosecutor General Volodymyr Huzyr. However, it seems a controversy among the leadership of the PGO hasn't come to an end.
In his interview with Ukrinform Kasko told about the pressure applied on his subordinates, and his plans for further projects.
- Recently, the US Ambassador to Ukraine Geoffrey Pyatt has criticized quite sharply the work of the Prosecutor General's Office of Ukraine (PGO), which, he said, undermines the reforms. In your opinion, was his criticism fair?
- US Ambassador to Ukraine has his own vision of certain things, obviously, it is based on the conclusions and observations of the results demonstrated by the PGO and its public image.
-Did the conflict inside the GPO which arose after arrest of "diamond prosecutors" come to an end?
-Let's say the situation has been frozen, but the problem itself is still there.
-Have criminal investigations into your subordinates been closed?
-No. At least two cases are investigated by military prosecutor's office regarding the employees of the Inspectorate General. These are absolutely phony criminal investigations that serve as a means of exerting psychological pressure on prosecutors and investigators.
Also, they attempt to reopen one case by using a certain scheme through a court. It pertains to our investigators, prosecutors, the SBU staff, and judges from the Court of Appeals. The case was closed after public disclosure on the second day after it was heard in a court. Now somehow the court resolution on the closure of the proceedings was found in possession of Volodymyr Shapakin, who is a suspect and has no relation to this case and he challenged it in a court. Therefore, this is such a "scheme" to resume criminal proceedings against our prosecutors, but through a court. Shapakin's attorneys received this resolution at the Main Investigation Department of the PGO, having nothing to do with this case and having no procedural status. What does this mean? It reveals the fact that senior officials of the Main Investigation Department of the PGO has been working to protect "diamond prosecutors" and they're still working on that. They give a signal in that manner to other prosecutors that those prosecutors who are engaged in anti-corruption actions will face problems in the system, and not vice versa.
-One of the "diamond prosecutors" Korniyets claims: continued investigation lasting from two to four months proves that it is "based on sand."
-Korniyets' statement is a manipulation. The case of this category to submit before a court in two months is impossible and irresponsible. It would just prove that they want to close the case as soon as possible. Taking into account the amount of evidence and materials that should be checked in this case, even four months is not enough. At present, some examinations and legal proceedings are nearing completion. W plan to submit the case to a court next November.
-How realistic is a chance to reinstate Korniyets in his previous job through a court hearing as he has repeatedly stated?
-I can't exclude anything, but evidence that has been collected as part of several criminal cases against Korniyets will be sufficient for sentencing in any European country. How a court will rule - it is unknown, since only it can make a conclusion about a person's guilt or innocence. The goal of the investigation is to provide unequivocal evidence, and let a court decide, and the evaluation of its decision will be given by the public.
50c