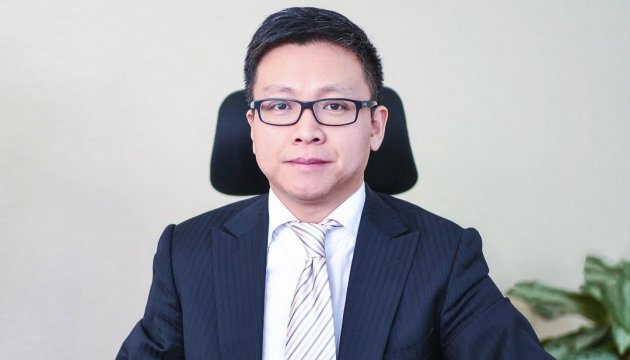 Vice President Huawei CA&C Region Hou Tao: Bring the digital world to every corner of Central Asia
Over the past 30 years, information technology has greatly changed how we live and work, and smartphones and mobile Internet have reshaped our lives. Over the next 30 years, information technology will enable businesses and the entire world to go digital, creating incredible market space.
Therefore, Huawei is committed to bringing digital to every person, home and organization for a fully connected, intelligent world. We plan to invest 15 to 20 billion US dollars in research and innovation each year to make key technological breakthroughs. We also plan to invest 10 to 20 billion US dollars to improve our marketing, sales, and service system, in order to better serve our customers and build a positive industry ecosystem.
In Central Asia, which is located in the "heart" of the Earth, the wave of digital economy is sweeping across industries. The implementation of digital technologies enhances the efficiency of the government and helps enterprises to achieve automation and agility in operations, the development of commercial applications based on the mobile Internet will be accelerated. The digital economy is becoming a new momentum of economic transformation and growth of all countries.
Huawei has been working in Central Asia for many years and built good partnerships with all main carriers, and has become a leading ICT solutions provider in the region. The products and services we provide in Central Asia include mobile broadband (2G, 3G, 4G, and 4.5G), fixed voice and broadband services (xDSL, FTTH, etc.), backbone transmission, core switch, IPTV, and value-added services.
In order to promote the digital transformation of Central Asian countries, bring digital life into every family in Central Asia and prepare for the arrival of the intelligent society in Central Asia, Huawei will work together with the government and operators to meet challenges and go beyond traditional boundaries.
First of all, we should widen the connection through national broadband construction and eliminate the digital divide. The penetration of home broadband and mobile broadband in the Central Asia is low. The average home broadband penetration of the region is only 34%, with that in Turkmenistan, Tajikistan and Kyrgyzstan lower than 10%. Advanced ICT infrastructure is a booster for economic growth and the foundation of an intelligent world. Huawei's GCI report shows that 20% increase in ICT infrastructure investment can lead to 1% growth in GDP and 20% increase in productivity.
Countries in Central Asia boast a high percentage of fixed phones, which is an advantage that can be leveraged. We should reuse the existing copper wire resources and deploy Huawei's innovative end-to-end Fast-to-the-Home solutions to accelerate fixed broadband construction. There is a huge room for deployment low-cost WTTx in remote areas which has high rates and low speed of Internet access.
For example, in Mongolia, land is privately owned and nomadic families live far and wide, which leads to high costs for optical fiber deployment and slow development of home broadband. Huawei's WTTx solution helped Mongolia implement fast home broadband coverage at a low price. 10,000 home broadband users were added each month and the country's home broadband penetration grew by 7% in 2017.
Secondly is to work with the government to strengthen the top-level design of the ICT industry. The construction of ICT infrastructure is playing a crucial role in realizing social transformation, narrowing the digital divide, promoting innovation and enhancing national competitiveness. At present, 170 countries have released their national planning for ICT infrastructure. Huawei will participate in the formulation of ICT planning in Central Asian countries and contribute to improving national economy, people's livelihood and economic development. So far, Huawei has participated in development of national ICT plans in Turkey, Belarus, Kazakhstan and Uzbekistan.
Belarus is one of the first countries in the Central Asia region to formulate ICT plan. According to the latest ICT Development Index released by ITU, Belarus ranks the highest at No.32 globally thanks to the Belarusian government's emphasis on ICT infrastructure construction. The Belarusian president has signed a decree on the development of the digital economy, which focuses on improving business environment to attract foreign investment in order to enhance national competitiveness, investing in the training of IT talent for future development and adopting latest financial tools and technologies to develop the digital economy and upgrade traditional industries.
Third, to break through the commercial boundaries and help operators achieve success. In recent years, operators' businesses were affected by the fluctuations in the market investment cycle but they still maintained a steady operation. Market volatility also allows Huawei to work more closely with its customers to explore and grasp the trend of network construction from "investment-driven" to "value-driven". In Central Asia, Huawei will build quality home broadband to tap the potential of existing network assets and provide the ultimate service for video, IoT and cloud communications to individuals, home users and enterprise users.
In Turkey, Huawei cooperated with Turkcell to deliver ultimate video experience to users in terms of content, O&M, package design and experience assurance, boosting ARPU and the number of video users. In Belarus, Huawei's OpenLife smart home solution helped Belarusian families build "intelligent systems" at home, which improve the comfort and safety for users through energy saving, automation, etc., bring digital to every home.
In the future, 5G will be a major opportunity for operators, which will greatly enrich the use of the network and serve more objects including people, things and industries. One physical network will promise millions of use cases. In Central Asia, we have started cooperation with local operators in area 5G. Huawei will not only help customers build 5G networks, but also work with industry partners to help customers achieve 5G business success and explore 5G innovation.
Finally, to build an open and win-win, and prosperous ecosystem. Building advanced ICT infrastructure cannot be done by a single company or an individual. We call for governments, businesses and the society as a whole to work shoulder to shoulder in terms of the policy, initiatives and funds (e.g., right of way acquisition and infrastructure sharing in home broadband construction, and spectrum neutrality, radiation control, and site licenses in mobile broadband construction).
Huawei is committed to working with local partners to promote the construction of ecosystem. Huawei focuses on ICT infrastructure and smart devices to provide a plot of 'rich soil' for the development of information, automation, and intelligence technologies. In this 'soil', partners can grow their content, applications, and cloud.
Building a smart society requires a great deal of talent. Huawei continuously contributes to the training of ICT talents in Central Asia and places social responsibility and business development in equally important positions. In 2017, the global ICT training program "Seeds for the future" had been implemented in Turkey, Belarus, Uzbekistan, Turkmenistan, Ukraine, and Azerbaijan, cultivating over 500 talents in this region. We also cooperate with well-known universities in Turkey, Uzbekistan, and Kazakhstan to build local ICT talent cultivation bases via donating equipment, training teachers, and establishing classrooms in the framework Huawei Authorized Information and Network Academy (HAINA). So far the program has trained over 2,000 talents. We offered scholarships for students and donated teaching equipment to top universities in Uzbekistan, Turkey, and Kazakhstan.
With openness, collaboration, and shared success in mind, in 2018 we would like to work closely with government and partners to contribute even more to the digital transformation and economic development of all countries Central Asia.