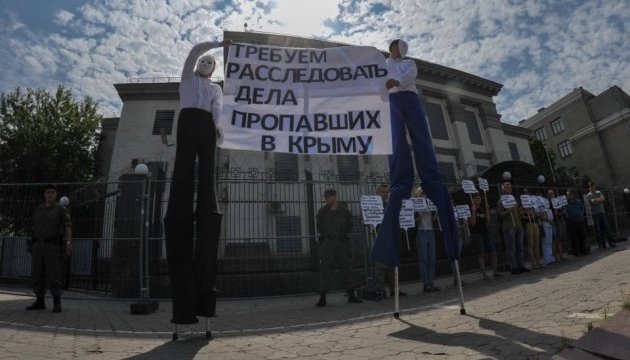 Rally over abductions in Crimea held near Russian Embassy in Kyiv
The rally "Where is Ervin?" has been held today near the Embassy of the Russian Federation in Kyiv. The activists of the NGO "CrimeaSOS" have held already the thirteenth protest action to ask Russia where Ervin Ibragimov and 17 more people, who disappeared in the occupied Crimea, are now.
"Today we have come to the Embassy of the Russian Federation in Kyiv for the thirteenth time with the same question: where are all the people, who were abducted in Crimea during the period of annexation? We know about at least 17 cases of kidnapping. These people have not been found yet. Russian de facto authorities in Crimea conduct no effective investigations on the territory of the peninsula," CrimeaSOS representative Yevheniya Andriyuk said, opening the action, an Ukrinform correspondent reports.
According to her, the case of Ervin Ibragimov, whose kidnapping is evidenced by videos, suggests that activists should constantly remind Russia that people will not allow to silence abductions in Crimea.
According to the activists, 44 Crimean residents have gone missing since Russia annexed Crimea. Of these people, six persons have been found dead, two persons are held in places of detention, 17 people have been found and the rest are still missing.
ol