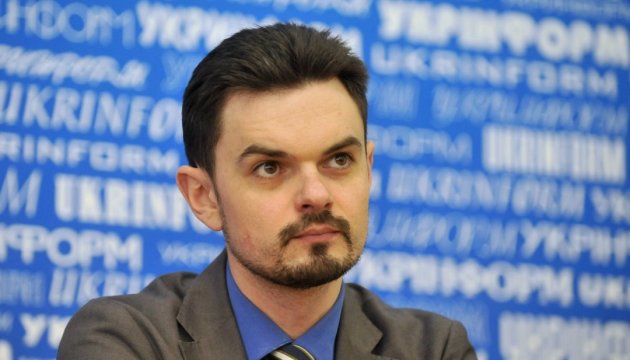 Information Policy Ministry names 50 victories of Ukraine in 50 days
Deputy Information Policy Minister Dmytro Zolotukhin made a list of 50 victories of Ukraine in 50 days.
The ratification by the Senate of the Netherlands of the Ukraine-EU Association Agreement and the decision of the European Parliament on granting Ukraine a visa-free regime with the EU were called among them.
"Ukraine: 50 victories in 50 days. Their number is much larger, but I have chosen the most important ones!" Zolotukhin wrote on his Facebook page.
Among other victories, he named the following ones:
- the Stockholm arbitration rejected Gazprom's "take-or-pay" claim and satisfied Naftogaz claim to revise prices to market level;
- the Executive Board of the International Monetary Fund (IMF) allocated Ukraine the next credit tranche worth $1 billion;
- Internet projects related to the Federal Security Service of the Russian Federation were blocked. Social networks VKontakte, Odnoklassniki, Mail.ru email provider, Yandex portal, Kaspersky and Doctor Web anti-virus providers were blocked;
- Eurovision 2017 was successfully held, 42 countries participated in the contest, 64,000 tickets were sold; 20,000 foreign guests, over 180 million TV viewers;
- language quotas on Ukrainian TV were introduced: 75% of the state language for national and regional TV channels, 60% - for local;
- Ukraine's course for NATO membership was legislatively approved;
- thanks to Prozorro.Sale system the assets of bankrupt banks worth UAH 1 billion were transparently sold;
- the budget resolution for 2018-2020 was approved by the Cabinet;
- ProZorro projects were recognized as the best anti-corruption startups in the world;
- in the framework of deregulation the government abolished more than 100 obsolete restrictive documents;
- USD 1.5 billion stolen by Yanukovych's inner circle returned to Ukraine;
- the Information Security Doctrine of Ukraine was adopted and is implemented;
- the National Bank of Ukraine decided to abolish a number of administrative restrictions on the foreign exchange market;
- tennis player Elina Svitolina became the fifth racket of the world;
- medicines will be imported to Ukraine through a simplified registration system;
- Ukraine ranked 44th among 115 countries in the world for data openness;
- Ukraine signed a visa-free agreement with Switzerland;
- Canada signed a Free Trade Agreement with Ukraine;
- the European Parliament approved the introduction of zero quotas for a number of Ukrainian agricultural products;
- the law on ensuring the right to higher education for persons whose place of residence is temporarily occupied territory of Ukraine was adopted;
- the process of introducing medical reform at the legislative level was launched.
ish